The beautiful and intoxicating colors of Cambodian blue zircon make it the most famous of all types of zircon. As with the other colors that can be achieved with Cambodian zircon gemstones, there is a large range of hues within the category of "blue" zircon, and shoppers and other buyers are each drawn to their own favorite examples of these unique and striking stones.
Ratanakiri blue
The most famous type of blue zircon of all is the kind mined in Ratanakiri Province (រតនគិរី) in northeast Cambodia, an area which borders Laos and Vietnam. This kind of zircon, which is a muddy brown when still in its natural state, is heated until it yields the astonishingly vivid blue color that cutters and lovers of jewelry covet the world over. World reknown for its ethereal loveliness, its shifting colors, and its diamond-like appeal, blue Ratanakiri zircon stones are a wonder to behold and are well-deserving of their reputation.
Pailin pale blue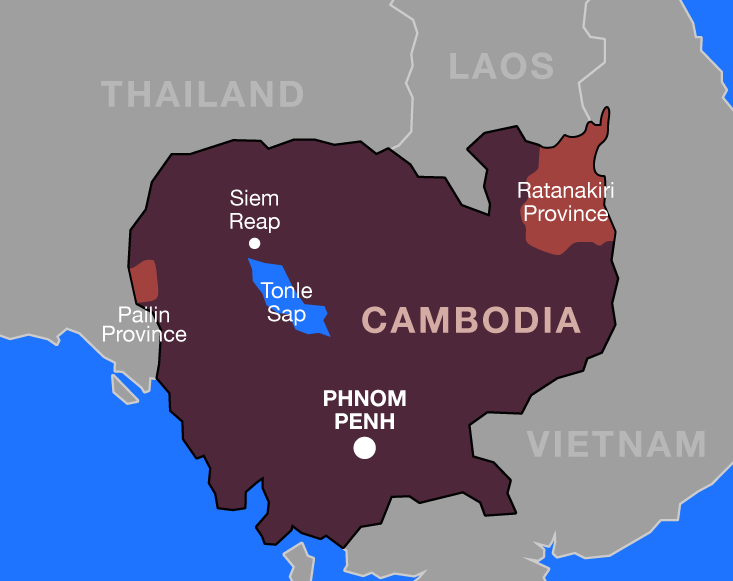 Another type of blue Cambodian zircon comes from Pailin Province (ប៉ៃលិន), a small province far from Ratanakiri on the western border with Thailand. Zircon mined in Pailin heats to a pale blue, and has its own impassioned devotees.
Both Pailin and Ratanakiri blue Cambodian zircon can be found for sale as loose, cut gemstones, as part of some truly exquisite rings and other jewelry, and even as freshly-mined natural-color unheated pieces. The best cuts and the most mesmerizing colors of course command the highest prices. But for a stone like Cambodian zircon — which has supporters who compare it favorably to diamonds, of all things — these prices are understandable, when the look is so breathtaking.
Subsequent heating of blue zircon gemstones may yield some other, equally-beautiful colors, including yellow zircon and the famous colorless white zircons.
Cambodian blue zircon available now on eBay

MegaMinistore finds all the best Cambodian blue zircon listings on eBay, from a number of categories and sellers. You will find a better selection of items here than on eBay itself thanks to our intelligent technology which discovers items in unrelated categories and weeds out irrelevant listings. We aim to not only show you many more great items than you would otherwise find, but also to give MegaMinistore users a valuable advantage over rival bidders and buyers.

Shop on MegaMinistore, then buy on eBay! Bookmark this page to see frequently-added new listings. The top Cambodian blue zircon offers from eBay located by MegaMinistore are listed below; these listings were updated just now. Click an item to buy, bid or see full details on eBay.