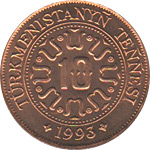 Turkmenistan coins are minted in the Central Asian country's main unit, the manat, as well as in tenge (1 manat = 100 tenge). The first Turkmenistan coins were issued in 1993, following the country's 1991 independence.
Monetary reforms in 2009 gave rise to the new manat, which was equal to 5,000 old manats. New coins were introduced at this time, giving Turkmenistan coin collectors some new angles and new areas of focus.
In addition to the country's regular currency for circulation, special collectors' coins have been minted several times since 1993.
Turkmenistan has more coins available to collectors than some other former Soviet Republics, and Turkmen coins are a joy to collect. Our current listings are below; check subcategories to pinpoint the coin or coins you are looking for. Happy hunting.
Available now from eBay sellers

Showing a sampling of related items currently being offered by eBay vendors. The information here was updated 1 second ago. See more current sales like this on eBay.