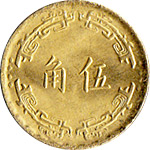 Modern Taiwainese coins were first introduced into circulation in 1949 as the New Taiwan Dollar, generally called yuan (元). 1 yuan = 10 jiao. In English, monetary amounts are usually written with the familiar dollar sign — 5 yuan would be $5, or NWT$5.
Although currently there are no jiao coins in Taiwan, there were in the past, and these can be fun collectibles for Taiwan coin enthusiasts. There is, however, a 1/2元 coin, which is in effect a 5 jiao coin.
Besides the half-yuan coin, other Taiwanese coins currently in circulation are $1, $5, $10, $20 (seldom used), and $50.
There are, of course, several commemorative coins aimed at international collectors. These proof coins are the focus of many Taiwan coin buyers.
Our current Taiwan coin listings for sale are below. See subcategories for specific coins or types of coin. Good luck!
Taiwan coins available now on eBay

Showing the top items currently offered by vendors on eBay. The information here was updated 5 hours ago.
Clicking an item pops to a detailed sales page on eBay.