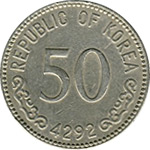 Following World War II, South Korea replaced the yen with an older Korean currency, the won. Each won was divided into 100 jeon (aka chon). However, banknotes were the main form; for South Korean coin collectors, there was only one coin from this period (1945-53) circulated: a 1 jeon coin, issued by the Japanese government.
By the end of the Korean War (1953), the won had devalued to a point where the South Korean government replaced it with a new currency, the hwan. This was divided into 100 jeon, but no coins or notes were ever circulated for this subdivision.
Three coins were produced for the hwan: 10, 50, and 100. In 1962 the hwan was replaced yet again with a new won, although 10 and 50 hwan coins were minted until 1975.
Following the reintroduction of the won in 1962, the first new won coins were minted in 1966. As with the hwan, modern South Korean won are divided into 100 jeon, but no coins exist for this unit.
Check the South Korean coins below, and see the various subcategories for specific coins.
South Korea coins available now on eBay

MegaMinistore finds all the best South Korea coins listings on eBay, from a number of categories and sellers. You will find a better selection of items here than on eBay itself thanks to our intelligent technology which discovers items in unrelated categories and weeds out irrelevant listings. We aim to not only show you many more great items than you would otherwise find, but also to give MegaMinistore users a valuable advantage over rival bidders and buyers.

Shop on MegaMinistore, then buy on eBay! Bookmark this page to see frequently-added new listings. The top South Korea coins offers from eBay located by MegaMinistore are listed below; these listings were updated 5 hours ago. Click an item to buy, bid or see full details on eBay.