North Korea has issued coins since 1959. The main unit of currency, the won, is divided into 100 chon. Coins have been issued in won and in chon. Chon is sometimes transliterated as jeon.
Communist vs. non-Communist coins: the "star" system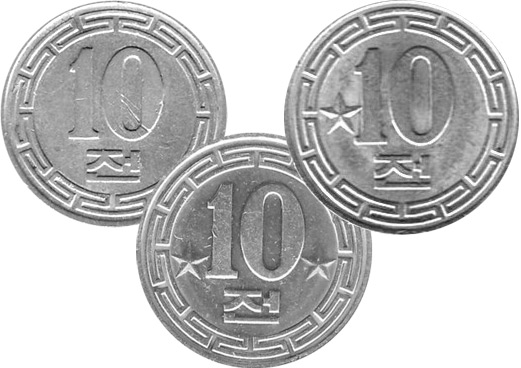 Early chon coins were issued in three different variations: without stars, or with one or two stars added to the design. The coins without stars were meant for general use among the North Korean population; the one-star coins were for foreign visitors from socialist countries; and the two-star coins were for other (i.e., non-Communist country) visitors. There is generally little difference in the collector value of these variations, and the type you buy is up to your personal tastes. North Korean banknotes have been issued along these same lines, color-coded rather than using a star system but with the same intention.
There were originally four different chon coins: the 1, 5, and 10 coins were issued in 1959 and again in 1974, and a 50 chon coin came in 1978. These gradually fell out of use as they became less valuable in North Korea's economy.
Later, the chon was revisited with several new coins in 2002: there were many 1/2 chon coins showing either an animal or a mode of transport on the reverse; the transportation theme continued onto two different 1 chon coins and a single 2 chon coin (all also issued in 2002).
Won coins
The first won coin came in 1987, and there have been many commemorative won coins and proofs since then. In 2005, North Korea revamped its coins, introducing new coins worth 5, 10, 50, and 100 won. Today, especially in light of North Korea's 2009 currency revaluation, chon coins are not used, and only won coins are now circulating.
Specimen coins: 견본
Some North Korean coins feature the Korean characters 견본, pronounced gyeonbon and meaning "sample" or "specimen". These variations tend to be more valuable than other types of coins.
Gold and silver proof coins
North Korea, like most other countries, has courted the international coin collectors' market regularly. Various commemorative coins, including silver and gold proofs, have come in a wide variety of denominations over the years. Collectors must decide if they want to collect these coins, while in the process giving money to the controversial government that issues them.
North Korea coins available now on eBay

MegaMinistore finds all the best North Korea coins listings on eBay, from a number of categories and sellers. You will find a better selection of items here than on eBay itself thanks to our intelligent technology which discovers items in unrelated categories and weeds out irrelevant listings. We aim to not only show you many more great items than you would otherwise find, but also to give MegaMinistore users a valuable advantage over rival bidders and buyers.

Shop on MegaMinistore, then buy on eBay! Bookmark this page to see frequently-added new listings. The top North Korea coins offers from eBay located by MegaMinistore are listed below; these listings were updated 5 hours ago. Click an item to buy, bid or see full details on eBay.