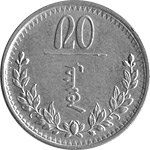 Mongolian coins in the modern era began in 1925; an earlier unit called the Mongolian dollar used banknotes exclusively. Although the unit of Mongolian currency, the togrog (also tögrög or tugrik) is divided into 100 mongo (möngö), there have been no mongo coins since 1990. Mongo coins now are for collectors and tourist souvenirs only.
However, in the past there were both togrog and mongo coins, and these are of interest to many collectors the world over. There have been several coins released for general circulation in Mongolia that were subsequently devalued.
Currently, there are five coins in circulation in Mongolia: 20 and 50 togrog (made of aluminum), and 100, 200, and 500 togrog (cupronickel). There is also a large selection of special commemorative and collectors' coins available.
Different Mongolian coins feature different scripts — Mongolian, Cyrillic, and English have all made appearances on the coins of Mongolia.
See our current selection of Mongolian coins for sale below. Check the subcategories for specific coins, including mongo pieces from before 1990.
Mongolia coins available now on eBay

MegaMinistore finds all the best Mongolia coins listings on eBay, from a number of categories and sellers. You will find a better selection of items here than on eBay itself thanks to our intelligent technology which discovers items in unrelated categories and weeds out irrelevant listings. We aim to not only show you many more great items than you would otherwise find, but also to give MegaMinistore users a valuable advantage over rival bidders and buyers.

Shop on MegaMinistore, then buy on eBay! Bookmark this page to see frequently-added new listings. The top Mongolia coins offers from eBay located by MegaMinistore are listed below; these listings were updated just now. Click an item to buy, bid or see full details on eBay.