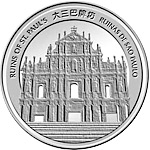 Coins in Macau (aka Macao) use the pataca; 1 pataca = 100 avos. The first Macanese coins were issued in 1952, during the Portuguese colony era.
Macau's coins were originally round, but some changed to 12-sided in the 1990s.
Proof coins and special edition coins are often available for Macau coin collectors, and include some striking designs, often featuring animals.
Our current Macau coins can be seen below. Look through the subcategories to see Macanese coins from specific years, by Krause Catalog number, or other parameters.
Enjoy finding the special Macau coins you need for your collection here!
Available now from eBay sellers

Showing a sampling of related items currently being offered by eBay vendors. The information here was updated 1 second ago. See more current sales like this on eBay.