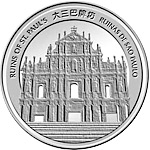 Coins in Macau (aka Macao) use the pataca; 1 pataca = 100 avos. The first Macanese coins were issued in 1952, during the Portuguese colony era.
Macau's coins were originally round, but some changed to 12-sided in the 1990s.
Proof coins and special edition coins are often available for Macau coin collectors, and include some striking designs, often featuring animals.
Our current Macau coins can be seen below. Look through the subcategories to see Macanese coins from specific years, by Krause Catalog number, or other parameters.
Enjoy finding the special Macau coins you need for your collection here!
Macau coins available now on eBay

MegaMinistore finds all the best Macau coins listings on eBay, from a number of categories and sellers. You will find a better selection of items here than on eBay itself thanks to our intelligent technology which discovers items in unrelated categories and weeds out irrelevant listings. We aim to not only show you many more great items than you would otherwise find, but also to give MegaMinistore users a valuable advantage over rival bidders and buyers.

Shop on MegaMinistore, then buy on eBay! Bookmark this page to see frequently-added new listings. The top Macau coins offers from eBay located by MegaMinistore are listed below; these listings were updated just now. Click an item to buy, bid or see full details on eBay.