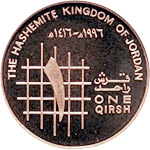 Jordan, occupying land once known as the kingdoms of Moab and Edom, has a short modern coinage history, beginning in 1949. Jordanian currency units are:
1 dinar = 10 dirham
1 dirham = 10 qirsh (a.k.a. piastre)
1 qirsh = 10 fils (note "fils" is the correct singular form)
At first, only coins denominated in fils were issued; these included 1, 5, 10, 20, 50 and 100 fils pieces. (The first 1 fils coin was mistakenly, if understandably, minted with the incorrect English phrase "ONE FIL" rather than FILS). Eventually the 20 fils coin was withdrawn and a 25 fils was added; a 250 fils (i.e., 1/4 dinar) coin was added later, then 1/2 and 1 dinar coins.
Most Jordanian coins are inscribed with the full name of the country, "The Hashemite Kingdom of the Jordan", though many use "Jordan" in place of "the Jordan".
In addition to the above-mentioned coins intended for general circulation, Jordan has also issued several proofs and proof sets for collectors. These special coins often appear in larger denominations than regular coins.
Our current selection of the best Jordanian coins for sale from a variety of vendors is listed below.
Jordan coins available now on eBay

MegaMinistore finds all the best Jordan coins listings on eBay, from a number of categories and sellers. You will find a better selection of items here than on eBay itself thanks to our intelligent technology which discovers items in unrelated categories and weeds out irrelevant listings. We aim to not only show you many more great items than you would otherwise find, but also to give MegaMinistore users a valuable advantage over rival bidders and buyers.

Shop on MegaMinistore, then buy on eBay! Bookmark this page to see frequently-added new listings. The top Jordan coins offers from eBay located by MegaMinistore are listed below; these listings were updated 5 hours ago. Click an item to buy, bid or see full details on eBay.