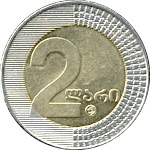 Coins in the Transcaucasian area now called Georgia were first issued by the kingdoms that existed in the area from about the sixth century BCE as areas such as Colchis, Iberia, and Lazica.
It was around the year 1000 that Georgia was successfully united into a single state; in the 1600s, this Kingdom of Georgia issued coins with its unit as abazi. One abazi was equal to 200 dinars. Abazi coins were made of silver, while dinar coins exist in both silver and copper varieties.
In 1833, having become part of Russia, Georgia began to use roubles as its currency. (From 1919 to 1923, a briefly independent Georgia issued banknotes, but no coins, using the moneti currency; roubles were then reintroduced and used for much of the remainder of the century.)
In 1993, following the fall of the Soviet Union, the country of Georgia, once again independent, issued currency in the form of lari. One lari = 100 thetri (a.k.a. tetri). Coins were issued, at first in thetri only, then (in 2003) in lari.
Georgian coins currently for sale are listed below. Peruse the subcategories to see specific coins or types of coins (proofs, sets, etc).
Georgia coins available now on eBay

MegaMinistore finds all the best Georgia coins listings on eBay, from a number of categories and sellers. You will find a better selection of items here than on eBay itself thanks to our intelligent technology which discovers items in unrelated categories and weeds out irrelevant listings. We aim to not only show you many more great items than you would otherwise find, but also to give MegaMinistore users a valuable advantage over rival bidders and buyers.

Shop on MegaMinistore, then buy on eBay! Bookmark this page to see frequently-added new listings. The top Georgia coins offers from eBay located by MegaMinistore are listed below; these listings were updated just now. Click an item to buy, bid or see full details on eBay.