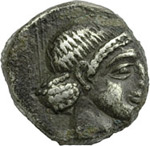 The Gaza Strip's history goes back four thousand years, and coins were first minted in Gaza in the fifth century BCE. Gaza's mints are famous in the coin collecting world; dated coins help detail the history of ancient Rome.
Today there is no specific Gaza-only currency; Gazans use Israeli shekels. So, collectors of Gazan coins are focused on ancient coins from Gaza's mints.
Collecting Gazan coins can be an interesting and affordable pursuit. The history of these artifacts from the past comes alive with each new piece.
Whatever your specific focus for your own Gaza coin collection, check these pages often because the Gazan coins for sale listed below are updated daily — new offers come and go regularly.
Good luck and have fun finding ancient Gazan coins here!
Available now from eBay sellers

Showing a sampling of related items currently being offered by eBay vendors. The information here was updated 0 seconds ago. See more current sales like this on eBay.