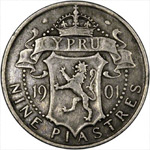 The earliest Cyprus coins date back several centuries before Christ; later, in the 12th century, the coinage of the Kingdom of Cyprus began, lasting several hundred years. These ancient coins are beautiful, and fascinating, but can be rather hard to find for collectors.
When Britain took control of Cyprus in 1878, coins were issued for general circulation on the island using a non-decimalized system: 1 pound was equal to 20 shillings; each shilling was in turn equal to 9 piastres.
This system continued until 1955, when George VI coins were replaced with Queen Elizabeth II coins, and the currency was decimalized: 1 pound equaled 1000 mils.
Significant changes to Cypriot coinage again took place in 1963: as the Republic of Cyprus, the government began issuing its own coins, retaining the pound/mil units from 1955.
In 1983, Cyprus again revamped its currency units: from that point, 1 pound = 100 cents. Cyprus has released several special collectors' coins and proof sets over the years, including some very collectible and rare pieces.
Cyprus adopted the euro in 2008, introducing new collectible coins to the marketplace in the bargain.
Our current selection of the best Cyprus coins for sale is listed below. Check out all the subcategories and specific vendors to find what you want.
Available now from eBay sellers

Showing a sampling of related items currently being offered by eBay vendors. The information here was updated 0 seconds ago. See more current sales like this on eBay.