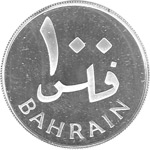 Bahrain, an island state in the Persian Gulf, used the Gulf rupee from 1959-65 before gaining independance from Britain. Bahrain's first coins were issued in 1965.
The unit of currency of Bahrain is the dinar, which is divided into 1000 fils. (Note "fils" is the singular form, not plural.)
In 1965 there were six coins ranging from 1 to 100 fils; the 1 fils coin was removed from circulation in 1966 however. There have been no Bahraini dinar coins meant for general circulation, but several collectible proof dinar coins exist.
In 2000, Bahrain added a 500 fils coin (1/2 dinar), bringing the total again to six types of coins in circulation.
Bahraini coins for sale to collectors today mostly include these general-use fils coins and of course some of the uncirculated proof coins. To find Bahraini coins for your collection check the current selection below. See specific vendors and subcategories to better isolate the coins you're looking for.
Bahrain coins available now on eBay

Showing the top items currently offered by vendors on eBay. The information here was updated just now.
Clicking an item pops to a detailed sales page on eBay.