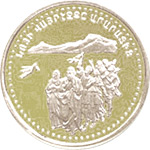 Except for some early Ottoman Empire coins and a few very rare examples of dram coins from about 800 years ago, Armenia coinage began in 1994, following Armenia's 1991 declaration of independence from the Soviet Union.
One dram is equal to 100 luma. The first set of coins from 1994, all aluminum coins, ranged from 10 luma to 10 dram.
In the early 2000s, a new set of coins was released: there were no luma coins, just six coins ranging from 10 to 500 dram.
Also in 1994, Armenia began issuing collectible proof coins, and there are several available to buyers. These special coins are in denominations of up to 100,000 dram and feature Armenian subjects — including historical buildings, international events within Armenia, and the Armenian coat of arms.
Although the range of coins may be somewhat small, there are still enough to keep collectors of Armenian coins busy and interested. Whatever your approach to collecting coins from this small European country, see our current listings below to find what you are looking for.
(More specific categories of Armenian coins can be found in the various subcategories.)
Armenia coins available now on eBay

MegaMinistore finds all the best Armenia coins listings on eBay, from a number of categories and sellers. You will find a better selection of items here than on eBay itself thanks to our intelligent technology which discovers items in unrelated categories and weeds out irrelevant listings. We aim to not only show you many more great items than you would otherwise find, but also to give MegaMinistore users a valuable advantage over rival bidders and buyers.

Shop on MegaMinistore, then buy on eBay! Bookmark this page to see frequently-added new listings. The top Armenia coins offers from eBay located by MegaMinistore are listed below; these listings were updated just now. Click an item to buy, bid or see full details on eBay.